We are not an institution so please contact the
relevant institution directly for course information.
Register Here
FOR ALL THE LATEST OFFERS
AND SPECIALS NOW
Register
What are you looking for?
NELSON MANDELA CHILDREN'S FUND REPRESENTATIVES PAY TRIBUTE TO "INSPIRING" YOUTH PROJECT AT CLIPPER RACE CELEBRATION IN CAPE TOWN
Nelson Mandela children's fund representatives pay tribute to "inspiring" youth project at Clipper Race celebration in Cape Town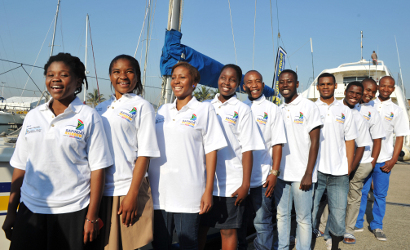 A unique project which has taken young South Africans from across the country and trained them to race across the world's most challenging oceans on the Cliper Round the World Yacht Race, celebrated their achievements in Cape Town this weekend in a busy programme of events at the V&A Waterfront to mark 'Sapinda Rainbow Day'.
Ncazelo Mlilo, Senior Programmes Manager of the Nelson Mandela Children's Fund, said: "It has been very interesting, inspiring and eye opening to visit the Sapinda Rainbow Project team today. I have been really inspired by the stories around their journey and the change in them as individuals. It has been a profound experience and being on board their boat today we can now get a taste of what it's like living on board, to see how they live, how they organise their lives and how it impacts them."
The Sapinda Rainbow project has worked with the Nelson Mandela Children's Fund (NMCF) to select eight young South Africans aged 18 to 23 who are each sailing one of the eight legs of the Clipper Race to develop their personal and community leadership skills whilst also raising awareness and funds for the Nelson Mandela Children's Hospital. With some never having seen a boat before let alone stepping on board one, it has presented the youth people with a challenge like no other.
Mbongiseni Dludlu a 22-year-old from Johannesburg is the next young person on the Sapinda Rainbow team to take part in the race. He will cross over 4,950 miles of ocean and spend more than three weeks at sea on board the African entry and the team will continue to raise funds to help realise the last major legacy of Nelson Mandela.
Mbongiseni said: "I am very excited but nervous at the same time because the Southern Ocean is a big one with big waves but we have a great team here and I'm looking forward to starting and surfing the waves going fast, I want to experience that. I am nervous about hurting myself but I just have to stay positive. I wish my family was here to wave goodbye but it's a great feeling to be leaving to take part in the race from my home country."
The Sapinda Rainbow team was reunited with the 19 other shortlisted applicants who participated in the initial selection process. The NMCF also explained why it was so significant that the Sapinda Rainbow team are also promoting the desire to create the Nelson Mandela Children's Hospital to a international audience in their race around the world. She added: "Our partnership with the Sapinda Rainbow Project is very special and dear to us for many reasons, and one of the most important is that it will enable us to see a dream come true – building a children's hospital is at the core of our hearts as a children's fund, but more essentially it's a dream and a challenge that our founder Nelson Mandela gave to the children's fund to build a hospital that is much needed for the care and support of our children."
The Clipper Round the World Yacht Race which was founded by sailing legend Sir Robin Knox-Johnston, the first person to sail solo non-stop around the world in 1968-9 departed from the V&A Waterfront to race nearly 5000 miles to Albany, Western Australia on the 4th of November.
Facebook Comments