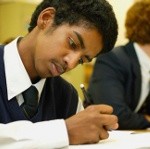 By Gabi Khumalo
Pretoria – Nice and fair with no surprises — this is how most Grade 12 learners felt after writing Afrikaans Home Language and First and Second Additional Language Paper 1 on Thursday.
Byron Moodley, a learner form Abotts College said the paper was fair and at the same level as the preliminary exams.
"There were no surprises except for one question we didn't do but was done in the previous years. The comprehension and summary was fair; the language was a bit challenging with the wording of the questions," said an optimistic Byron, who said he is expecting nothing less than 85%.
His schoolmate Andre de Klerk also felt the paper was fair. "It was not difficult and not easy. I've answered all the questions and finished on time," said Andre.
Andre, who also didn't come across any surprises in the paper, said he was gunning for 70% – 80%.
Nokubonga Lukhozi, from SA College Private School, was all smiles as she wrote one of her favourite papers.
"I enjoyed it because I understand Afrikaans. There were some challenges; the comprehension was easy but the summary was a bit challenging but I'm expecting a B on this one," said a confident Nokubonga.
Thanks to the preliminary exams they wrote internally, Riley Somiah from Westville Boys High School came out of the exam room smiling as he was well prepared.
"It was a nice paper; there weren't too many challenges and all the three sections of the paper were easy. This paper was very easy compared to the internal exams we wrote in September, which helped me because I came in prepared and knew what to expect," said Riley.
He is confident that he will get a B, if not higher on the paper.
The National Senior Certificate examinations have been going well since they started last week, with minimal incidents or irregularities reported in the first week of the exams.
This year, a total of 527 335 full time and 120 352 part time candidates are registered for the exams. The exams will conclude on 28 November. – SAnews.gov.za
Article taken from