We are not an institution so please contact the
relevant institution directly for course information.
Register Here
FOR ALL THE LATEST OFFERS
AND SPECIALS NOW
Register
What are you looking for?
MATRIC: WHERE TO FROM HERE? [PART 2]
MATRIC: where to from here? [Part 2]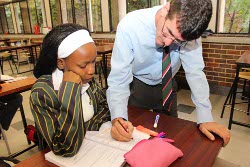 By Motlatsi Kekana
For many young people, completing matric means an end to their academic journey for different reasons that include not having money to further their studies or the fact that they did not apply to get into a tertiary institution on time. All this should not be barriers stopping one from taking steps towards achieving their dreams.
More often than not, you come across the phrase "South Africa is alive with possibilities". The truth in this phrase is evident in the opportunities provided by major banks, Eduloan and National Student Financial Aid Scheme of South Africa (NSFAS)
These institutions can help to enable academically deserving and financially needy students to further their studies in a university or an FET college. They are basically there to support you financially and ensure that you are a step closer to achieving your dreams.
Having not applied to get into a tertiary institution on time can present you with a huge challenge, but the truth of the matter is that it is in how you respond to the situation that matters.  If you did not have a tertiary admission for the year, you still have several choices that can assist in empowering yourself to better your future, join different job search engines to find out about any available learnership programmes.
Another thing you can do that might be beneficial to you is finding a part-time job while researching on the career path you want to follow.  If you already know what you want to study but your marks does not meet the minimum requirements to be admitted in that particular field, do not despair, matric results can be upgraded at  different FET colleges as well as at a university level.
With all these opportunities available to you, you can afford to chase that dream and make it a reality. Always bear in mind that you have the power to change and better your future. Do not let your past situation to determine you future.
For more info visit:

Facebook Comments