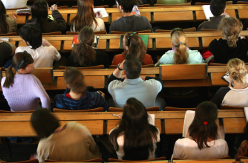 Have you made the most of all the facilities at your tertiary institution? Did you even know that a tertiary institution has all these services to make a student's life easier?
You might be amazed at the difference it makes to your life as a student if you are empowered with this information. Some of the services which are available on campuses around the country include:
A comprehensive Career counselling service with pre-admissions testing.
Wellness Centres offering a range of services from psychological counselling to medical doctors.
Free shuttle busses to get students onto and off campus from a wide range of areas.
Sports clubs and facilities – from fencing, rugby, to volleyball, skydiving, canoeing, running, etc.
Outreach opportunities – for students to get involved in SHAWCO, tutoring and mentoring programmes and a host of other volunteer work.
Laboratories for students to engage in research etc.
Libraries offering a range of resources to assist and enrich students.
Assistance with writing up thesis, essays etc through facilities like a Writing Centre or similar resources.
Online IT courses through the Centre for Educational Technology
Student funding opportunities aimed at providing financial assistance to eligible students.
Disability Services which supports equal academic access for disabled students in a range of ways, including advocacy and advise on issues related to disability, as well as counseling support for students and staff with disabilities, and advise on academic adjustments for disabled members of the campus.
Make the very best of your time at university or whichever tertiary institution you decide on by taking full advantage of the rich diversity, the opportunities and the services offered.
Empower yourself to discover what they are!