Attention all Grade 12 learners: Don't miss the chance to Shape Your Future!
Apply for an Allan Gray Orbis Foundation Fellowship
March 2014: The deadline to apply for the Allan Gray Orbis Foundation Fellowship is looming and closes on the 30th of April 2015 for Grade 12 learners.
By applying for the Fellowship, the Allan Gray Orbis Foundation offers applicants that show potential in entrepreneurial talent an opportunity to develop as responsible entrepreneurs.
Applicants who pass the initial screening phase of selection are required to write the National Benchmark Test. All applicants who meet the Foundation's requirements in the application phase will be invited for an interview and if successful thereafter invited to attend a Selection Camp. Candidate Allan Gray Fellows are announced after the Selection Camps.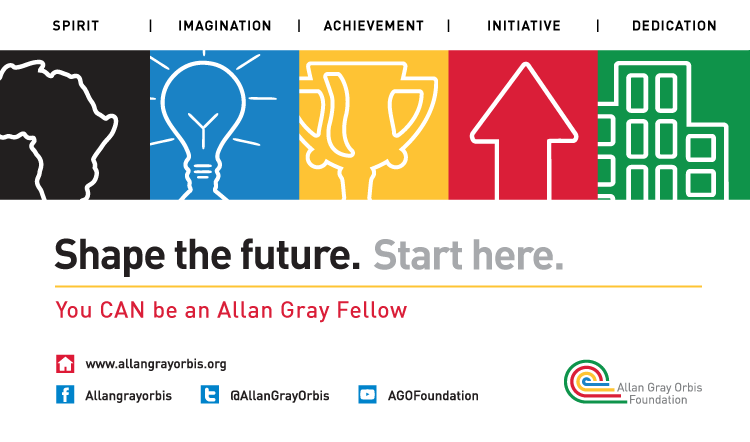 The Fellowship distinguishes itself from other bursary and scholarship programmes with its holistic and individual investment approach. The Fellowship also offers the opportunity to engage in a personal and entrepreneurial development programme alongside access to university education. Visit www.allangrayorbis.org for more information and application forms.
ENDS
ABOUT THE ALLAN GRAY ORBIS FOUNDATION
The Allan Gray Orbis Foundation exists to identify, support and develop talented young Southern Africans whom have the potential to become entrepreneurial leaders and make a valuable difference to the social and economic fabric of South Africa.  Developing high-impact leaders is, however, only the means to an end: the ultimate purpose of the Foundation is to make a real and enduring difference not only to the lives of those that they have invested in, but also to the country and the region at large. This is the core purpose and the vision of the Foundation: to make a long-term positive impact that liberates the possibility of a great South Africa. The Allan Gray Orbis Foundation is the social responsibility initiative of Allan Gray Limited and the Orbis Groups in South Africa.  It is funded annually by a donation of a minimum of 7% of the taxed profits of the Allan Gray Limited and Orbis Group, which has committed to making this donation to the Foundation in perpetuity.  As profits may fluctuate, this commitment is backed up by a capital endowment of over R1 billion donated by Mr. Allan WB Gray, the founder of Allan Gray Limited and Orbis Groups. Further information is available online at www.allangrayorbis.org
For further information or interview requests please contact:
Issued by: Positive Dialoguee Communications
On Behalf of: Allan Gray Orbis Foundation
For Further Information Contact: Cherná Misrole
Tel: (021) 486 8158
Mobile: (076) 77 29 717
Email: [email protected]