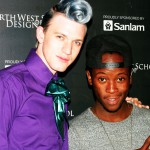 In the seven years since flamboyant designer Gert-Johan Coetzee got his big break designing dresses for Strictly Come Dancing, he has established himself as one of the top names in the SA fashion world, and now he is looking for another young talent to follow in his footsteps. The search is on for a student to study fashion design at North West School of Design with the Gert-Johan Coetzee bursary worth R168 000.
"Being able to work in fashion is all I ever wanted to do, and it's a privilege that makes me happy every day of my life. I want to pass on this same opportunity to someone young, talented and hungry for success," says Coetzee, whose show-stopper gowns are regularly seen on the red carpet here and internationally.  "There is such opportunity in the SA fashion industry to make a successful career if you have the drive, talent and the willingness to work hard; and it's an honour to be able to help one other aspirant achieve their dream." The bursary is in its fourth year, and the previous beneficiaries are all on their way to become stars in their own right.
Last year's winner, Quincy Thabang from Sasolburg, is completing his first year soon, and says it has been an amazing experience so far. "I'm learning how to identify, manage and develop new ideas because it's not enough to just be a talented designer. I've learnt so much in this short period of time, and I can only image how much more I'll learn in the next two years." The bursary includes an internship at Coetzee's dynamic design studio in Linden, which has been a highlight of the year for Quincy. "Getting to experience the production side of things on a larger scale at Gert's studio has taught me the importance of time management and being organized," he explains.
Aside from the personal mentorship by Coetzee, the R168 000 bursary covers tuition and study materials for the duration of the three-year BA Fashion Design degree course, and includes both a sewing machine and an overlocker from Bernina valued at almost R33 000.
Based in Klerksdorp, the North West School of Design is an international fashion college that offers a full spectrum of courses that prepare future fashion professionals as designers, clothing technologists, fashion buyers and more. Students are exposed to international best practices and insights, aligning them with global standards. Coetzee himself graduated there in 2005 when he also won the distinction of Designer of the Year. He has served on the college's advisory board for the past six years.
To be considered for the bursary, students need to have a National Senior Certificate or an international equivalent, and need to submit a motivating essay and sketches for four red-carpet gowns according to the theme "15 Shades of Style".  Says Coetzee, "I'm looking for someone who blows me away with their passion, raw talent and proven aptitude for design. If you are dedicated and will go the extra mile to achieve your goal, you may be the next winner."
For details on how to enter, visit www.nwsd.co.za The closing date for entries is 17 October 2014.