We are not an institution so please contact the
relevant institution directly for course information.
Register Here
FOR ALL THE LATEST OFFERS
AND SPECIALS NOW
Register
What are you looking for?
FUTURE STARS FINALIST: RONEWA NEMATSWERANI
Future Stars Finalist: Ronewa Nematswerani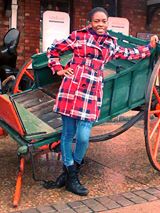 Ronewa Nematswerani, 20, Cape Town
I dream of becoming a…
Pharmacist
I'm living it now by…
Studying organic chemistry and biochemistry.
I'm going to do it with…
By completing my degree at Stellenbosch University.
I believe I am a leader and role model because…
My classmates come to me seeking for extra help in chemistry and I help them with passion.
I believe I have a positive, 'never give up' attitude because…
When I don't do well in my tests I go straight to my lecturers and let them correct my mistakes. I don't sit down and cry that I didn't do well. This helps me to stay positive towards my dream.
I believe the only way to success is through…
Hard work, teamwork and positive mindset.
I have overcome the following challenges…
Financial problems in my family and weakened by people surrounding me.
Follow Ronewa on Twitter: @newie_nems
View Ronewa's video on "Why she is the next Future Star"
Go to the Future Stars Awards page
Facebook Comments