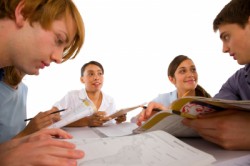 Many lucky students have financial aid like scholarships and bursaries or even have taken out student loans. Getting through college is not easy if you have to pay for yourself, most of us have to work low paying, dead end jobs just to make sure we could complete our studies. If this is the situation that you find yourself in, don't worry – we have put together a list of perks for you about the following four "student friendly" jobs.
1) Student Tutoring
This might not be your idea of fun, but this a good way to make money while being a student. You get paid fairly well and you get the chance to "learn" while you work, depending on the tutoring centre that you work at. Most campuses around South Africa have these organised organisations that you can become a member of – keep in mind that there might be some requirements for you to become a tutor. Best way to find out about this part time job is to ask your lecturers about tutuoring opportunities.
2) Waiter in your holidays
Your tips will mostly depend on the restaurant that you work at – so try and look for restaurants that attract more elite crowd as they have the money to tip waiters. Your tip will  also greatly depend on the service that you deliver as a waiter and whether you make sure that you clients have a good time while being served by you. Also keep in mind that your hourly wage will vary according to the hours that you work. If you don't mind working in your December holidays, you would probably earn more tips as this is the time that most people are on holiday and spending money.
Some restaurants offer their staff at least one meal per shift which means several free meals per each week..SCORE! Being a waiter you sometimes might have to help out and work behind a bar (depending on your place of work) – this is a good place to meet new people while working and earning money.
3) Work at your local grocery store
Many grocery stores offer their staff members food at a discounted rate, your work hours are mostly during the day time and this job does not require you to work until late hours in the evening as in the restaurant industry,  you know the hours beforehand, and you can normally get paid a higher wage for working Sundays. Some grocery stores even offer double pay on major holidays, such as Easter and Christmas.
4) Work within your major's faculty
This line of work offers not only the opportunity to make money, but you start building up relationships as well as experience in your line of work. You get to know your lecturers on a more personal level as now you work closely with them by helping to mark tests, help to supervise at exams, do research for them and even end up teaching a class or two.This however is mostly for students in their final years of university or part of their post graduate degree.
5) Become a babysitter
Don't automaticlly dismiss the possibility of being a babysitter, just because you are worried it will have an effect on your social life. In fact it would actually help boost your social life as you will now have more money to spend. You don't have to work every day, you can negotiate your hours with the family, do some studying while on the job – but this would depend on the age of the children that you would babysit offcourse.
Good place to start is to ask your lecturers whether you can assist them when it comes to babysitting as they would usually prefer one of their students instead of a stranger. You can also advertise your babysitting services in the local newspaper.
What other Student Jobs would you recommend?
Return to the homepage or click to read more Student News
Image courtesy of Ambro at