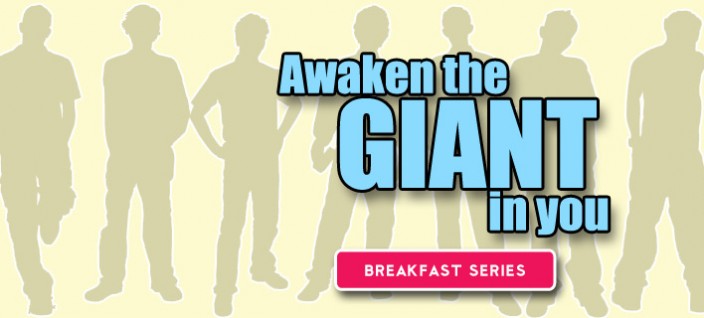 Adversity is something none of us likes to think of, but in a moment one situation can change our entire lives. While insurance companies maximise the reality of this eventuality, most people are still completely blind-sided when adversity hits them. As a result, the obvious by-products of experiencing misfortune can be depression, a complete lack of self-esteem and even financial loss.
Whilst all of the above are very evident across South Africa in the unemployed sector of the population today, there is the occasional diamond in the rough that shines out of a seemingly dark and hopeless situation to just encourage and give back that glimmer of hope that gives budding entrepreneurs an example to glean from.
It is for this reason that the Teen Entrepreneur Foundation of South Africa has created the Awaken the Giant In You breakfast series. The breakfast series aims to showcase the stories of successful South African's and allow them to share their experiences and life lessons with learners, their parents and organisations wishing to support the development of entrepreneurs.
The next event in the series will take place on Thursday, 22 May 2014 at the Townhouse Hotel, Cape Town at 08h30. Martin Brown CEO of Radical Holdings and professional business speaker will share his journey of overcoming obstacles after being injured in a diving accident. He used creative thinking and his collective experience to change his own life and the lives of others, which kick-started him into a flourishing business.
"Every entrepreneur, young or old will face and have to overcome adversity at some stage of their business journey," says Lydia Zingoni Founder and Director of the SA Teen Entrepreneur Foundation. "We want to inspire our youth, from a young age that it is possible to overcome and flourish," she continued.
Teen Entrepreneur Foundation which was started in 2010 exists for the sole aim of instilling a culture of entrepreneurship in teenagers in South Africa.
Come and be inspired by Martin's entrepreneurial journey and connect with like-minded individuals from government and business entities to fast track your dreams and ambitions.
The event is open to youth, their parents, teachers, community leaders, government departments, particularly those who are tasked with child development and the business community.
Tickets cost R150.00 and bookings for the breakfast can be made on-line at www.teenentrepreneur.co.za or  via Webticket  http://www.webtickets.co.za/event.aspx?itemid=828842321
For more information about the breakfast contact Nadia Snyders on 021 447 6183 or [email protected].