We are not an institution so please contact the
relevant institution directly for course information.
Register Here
FOR ALL THE LATEST OFFERS
AND SPECIALS NOW
Register
What are you looking for?
DUT CURRICULUM CHANGES WILL SEE FACULTY OF ARTS AND DESIGN STUDENTS LEARNING ISIZULU AND FOREIGN LANGUAGES
DUT Curriculum Changes Will See Faculty of Arts and Design Students Learning IsiZulu and Foreign Languages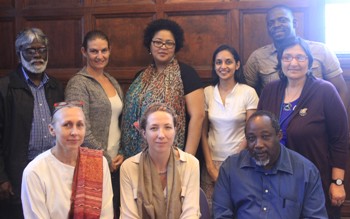 By Mbali Madlala
The Durban University of Technology is currently working on a major curriculum renewal project with the introduction of General Education.
As part of this project, the Faculty of Arts and Design will be including IsiZulu, French and Portuguese as elective modules to all students within the Faculty. The curriculum renewal project is set to commence in 2015, and the idea behind the incorporation of the General Education modules in language studies is to introduce students to a broader market that allows them to be employable both on a national and international level.
In preparation, the Faculty of Arts and Design in collaboration with the International Education and Partnerships office has had negotiations with Alliance Francaise, an organisation which offers language training in French, IsiZulu and Portuguese, to help facilitate the inclusion of these language studies within the institution.
The two parties met again recently at the DUT City Campus to further discuss their partnership with Alliance Francaise. The Faculty was represented by Dr René Smith, Faculty of Arts and Design Acting Deputy Dean while Alliance Francaise was represented by its Director, Sarah Doignon. Dr Smith also emphasised the importance of being responsive to national priorities as well as being globally competitive.
"We want our students to think critically, as well as give them an edge that allows them to communicate with the world," said Dr Smith, adding that the work of the Writing Centres will compliment some of the proposed Faculty General Education language modules.
These semester-long modules aim to introduce students to a new language and culture, though students who are keen to pursue their language studies further may do so with Alliance.
According to Doignon, when French Ambassador, Her Excellency Madame Elizabeth Barbier, visited DUT, she was particularly intrigued by the transformation that the institution is currently undergoing; this being the incorporation of modules that will enhance students' employability. She said that there is a strong possibility of Alliance Francaise and the institution working together in future with language training and having the French take on more exchange students.
Furthermore, Doignon said Alliance helps to facilitate culture exchange, and could help expose South African students to the international market, through hosting workshops that teach students about international expectations with regards to employment and job opportunities.
IMAGE: DUT and Alliance Francaise finalising partnership talks for the General Education modules, which will be introduced as part of the University's Curriculum Renewal Project in 2015, at a recent meeting on the City Campus.
Article and image source: Durban University of Technology
Facebook Comments