Digitisation is knocking on our front door – is SA ready to answer?
South African universities will have to pay urgent attention to the international trend of digitisation of the humanities to prevent students from soon knowing more about this field of study than lecturers themselves. This is according to Prof Ray Siemens of the University of Victoria in Canada, during South Africa's first international workshop on Digital Humanities  (DH).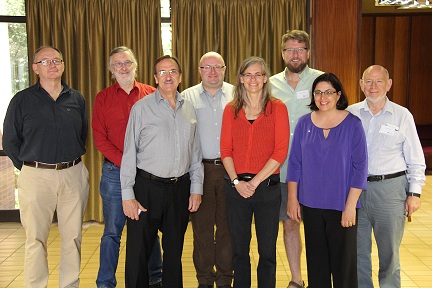 This workshop, presented by the North-West University's Potchefstroom Campus, focused on the digitisation of the various disciplines in the humanities.  This digitisation includes, among other things, ancient and modern languages, archaeology, history, communication studies, the arts, music, anthropology, etc.
Siemens defines Digital Humanities as studies of the humanities by means of digital and technological methods. "Because the new and the social media are growing at an astonishing speed, more and more information on practically everything is available digitally. We cannot afford to continue following the traditional ways of training."
He adds that DH is a way of giving the intellectual life of humanities an additional boost. "We need not be concerned that DH will overshadow the traditional study methods in the humanities. It rather provides a bigger playing field for further research and attracts a larger audience of researchers. It broadens our capacity of teaching-learning, it builds on the foundations already laid by traditional studies and consequently creates a new platform for research. It is a way of blending the study methods of the past with those of the present and even the future. One cannot solve Hamlet, but one can find ways to interpret it afresh."
Siemens quotes his co-editor of their book, A Companion to Digital Humanities, Susan Hockey: "Through the Internet, humanities computing is reaching a much wider audience, and students graduating from the new programs being offered will be in a position to work not only in academia, but also in electronic publishing, educational technologies, and multimedia development. Throughout its history, humanities computing has shown a healthy appetite for imagination and innovation while continuing to maintain high scholarly standards. Now that the Internet is such a dominant feature of everyday life, the opportunity exists for humanities computing to reach out much further. Our tools and techniques can also assist research in facilitating the digitization and encoding processes, where we need to find ways of reducing the costs of data creation without loss of scholarly value or of functionality".
The vice-chancellor of the NWU, Prof Dan Kgwadi says the prospects of DH look attractive and is giving this project his full support.
Prof Justus Roux, former research director at the NWU, fully agrees. "To fast-track the establishment of DH in South Africa, we must identify the expertise and the resources we already have. With the help and support of the National Research Foundation (NRF) and the National Department of Arts and Culture, a number of projects have been set in motion at universities."
The Centre for Text Technology (CTexT) at the North-West University's Potchefstroom Campus is geared for this and is already bolstering the development of DH in South Africa. CTexT is an internationally recognised, innovative research and development centre for language technology resources, products and software. CTexT, which celebrated its tenth anniversary last year, focuses on the development of applications and resources (e.g. spelling and grammar checkers, machine translation systems and data development) that establish easier interaction between people and computers and innovative approaches to the processing of language.
Roux says a joint application by three universities and the NRF was recently submitted to government's Department of Science and Technology for funding for the establishment of a National Centre for Digital Language Resources. "This, to enlarge expertise and research possibilities that will lead to better digitisation in South Africa. South Africa's multicultural context creates an interesting opportunity for DH-based research and project development."
Prof Attie de Lange, Research Director: Unit for Language and Literature in the South African Context at the NWU, says the need for establishing a Digital Humanities Association for Southern Africa was identified at the workshop. "This, to enable the association to take the lead in driving and developing all DH issues. Another objective is to become the centre of all DH projects in Southern Africa. The Digital Humanities can even become a field of specialisation that can lead to the birth of new degree courses. We do indeed have the expertise and the resources to make the digitisation of the humanities world-class. All it needs is much more attention."
De Lange also intimated that negotiations with international experts to present a week-long workshop, similar to summer schools in North America and Europe, at the NWU in 2016, have reached an advanced stage.
A national steering committee, headed by Prof Justus Roux, has already been appointed to draft the rules of a to be established DH association with the provisional name Digital Humanities Association of Southern Africa (DHASA).