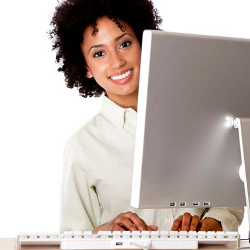 To register in 2013, CPUT will only need 15 minutes of your time.
Thanks to the successful rollout of online registration, returning students will once again be able to make use of this user-friendly facility.
Students will have the option to register online from the comfort of their homes or anywhere else they have access to the internet.
Students also have the option of registering online at computer laboratories, which have been set aside for registration at CPUT campuses.
Best of all, this process is straightforward and will only take between 10 and 15 minutes.
In order to register online in 2013, students must meet the following criteria:
Have no outstanding fees
Qualify academically (this will vary from Faculty to Faculty)
Have made the upfront payment
Have been registered in the 2012 academic year
All international students as well as first-year students will have to follow the manual registration process, which will take place at the various campuses.
Those who have to follow the manual process will be assisted by registration staff at the various campuses.
The links below contain information for courses that will be available for online registration as well as additional information on the 2013 registration process.
Article source: CPUT