We are not an institution so please contact the
relevant institution directly for course information.
Register Here
FOR ALL THE LATEST OFFERS
AND SPECIALS NOW
Register
What are you looking for?
CPUT TOURISM STUDENTS' OUTREACH
CPUT Tourism students' outreach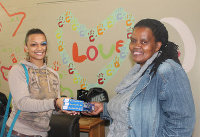 By Kwanele Butana
Third- year students in the Tourism Department of CPUT took time out of their studies to bring and serve lunch to children at Fikelela Orphanage in Mandela Park, Khayelitsha.
Started in the year 2000 by Anglican Diocesan Rachel Mash, Fikelela Orphanage is home to 38 children. The children, aged between one month and eight years, are vulnerable to HIV/Aids.
The students raised money to buy food, snacks and juice, which they served to the children. They also played several fun games with the children, which included face painting.
Student Thobile Nzima told the orphanage's caregivers that at CPUT students learnt that sustainable and responsible tourism should have an impact on disadvantaged communities.
"Tourism is about preserving the culture and heritage of South Africa, ideals which in turn promote caring" says Thobile.
The orphanage's supervisor Terry Galeni says they are grateful for the visit, which had made a huge impact on the children.
Head of the Tourism Department, Mandisa Silo says the visit was humbling and fulfilling and its greatest value was seeing how the students interacted with the children and the impact it had on the latter.
Article source: CPUT
Adapted by SAstudy.co.za
Facebook Comments