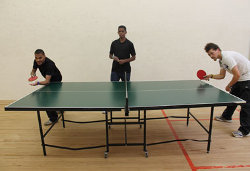 CPUT's Table Tennis team is defending their title at the University Sports South Africa Tournament, which takes place this week.
The team, managed by Llweyln Le Kay scooped first place in last year's tournament and are positive that they will once again bring home the gold.
"We have a very strong team this year," says Le Kay.
Taking place at the National Institute of Higher Education in Kimberley, this year's event has attracted some of South Africa best university table tennis players.
But the CPUT team is well prepared for the week-long event.
The team followed a stringent training programme during the past few weeks, which was overseen by coach and former CPUT table tennis team player, Rudwin Gertze.
Gertze says the team performed well during their recent league games and also in a number of friendly matches.
"I am sure that they will do well this year," says Gertze.
Team member Kirshwan Stein, who has been playing table tennis for the past 11 years, says the team is looking forward to showing-off their skills at the tournament.
By Candes Keating
Article source: CPUT