We are not an institution so please contact the
relevant institution directly for course information.
Register Here
FOR ALL THE LATEST OFFERS
AND SPECIALS NOW
Register
What are you looking for?
CPUT REACHES OUT TO LEARNERS
CPUT reaches out to learners
Tuesday, 25 September 2012
By Kwanele Butana
As part of its community engagement initiatives, the Faculty of Business of Cape Peninsula University of Technology successfully collaborated with Sinenjongo High School in Milnerton.
The Khula Sonke Tutorial programme was conceptualised early this year as a life skills, accounting and economics tutorial programme offered to Grade 10 learners from Sinenjongo High School in the Joe Slovo Settlement in Milnerton.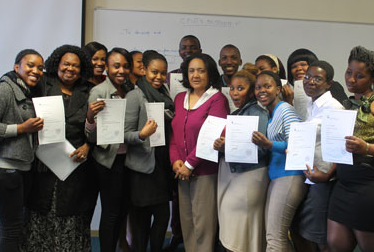 Research has shown that Grade 10 is strategically a good level to start this type of intervention as learners in this age group join schools in the Western Cape in search of a better standard of education.
The aim of the project was to assist learners and teachers with teaching and learning accounting and economics while at the same time developing the learners' life skills.
The tutorials were offered every alternate Saturday from April to September and 49 learners from the school were bussed to the Bellville campus where they were taught and supported by 15 student tutors.
The learners were awarded with certificates of completion and tutors received certificates of participation.
Lecturer Carol Whiting, who co-ordinates the programme, says feedback from learners and tutors, as well as preliminary evaluation indicates that the project was highly valued and had contributed to the academic success of the learners.
Community Engagement and Work Integrated Learning Director, Dr Joyce Nduna, says the project articulates well with CPUT's mission and the national vision.
Sourced from: Cape Peninsula University of Technology
Facebook Comments