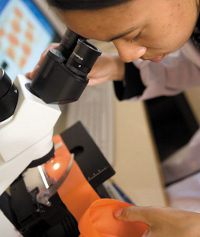 By Candes Keating
CPUT is playing a key role in developing a new generation of scholars.
And to make sure it meets this goal, CPUT has set up a number of support structures for postgraduate students, including access to a wide range of bursaries.
The bursaries range from R20 000 to well over R100 000 and are funded by external organisations and the university.
CPUT is encouraging postgraduate students to make use of this opportunity.
Local and international students can apply for the CPUT Postgraduate Bursary, which offers funding for full and part-time students enrolled in postgraduate programmes across the six faculties.
Students in the Science, Engineering and Technology as well as in the Social Sciences and Humanities fields have the option to apply for funding from the National Research Foundation (NRF).
The university also receives funding from the Mauerberger Foundation, which supports top students registered for Master study in various fields. The Webb Trust, on the other hand, funds needy students.
To qualify for funding, students must meet certain criteria. More information on the bursaries and application forms can be found at
Students can also contact the Centre for Postgraduate Studies at 021 953 8600 or This e-mail address is being protected from spambots. You need JavaScript enabled to view it
The cut-off date for CPUT bursary applications is 8 March 2013, while for the NRF it is 15 March.
For more information on CPUT,