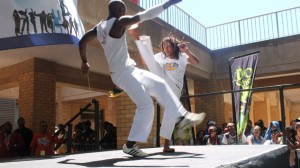 Nkosomzi Speelman, Instructor of CPUT Capoeira Society Club, demonstrates Capoeira moves with a fellow Capoeirista 
CPUT Capoeira is on the rise as three Capoeiristas have been invited to the United Kingdom to be trained by masters and professors of Capoeira from all over the world.
The trio, Nkosomzi Speelman, Bulela Ngodwane and Anver Sekadi, will be attending the 13th Anniversary of Abolicao Oxford Capoeira in the UK next month.
Capoeira is a Brazilian martial art that combines elements of dance, acrobatics and music, and is sometimes referred to as a game. It was developed in Brazil mainly by African descendants with native Brazilian influences around the 16th century."
On return to South Africa we will share these skills with the other members of Abolicao South Africa," says Speelman, Instructor of CPUT Capoeira Society Club.
"Because this will contribute to our ongoing work and project sustainability, we humbly request the CPUT community to support us by contributing donations to the group via DSA: Arts and Culture."
Speelman has been involved in Capoeira for almost 9 years and was instrumental in the establishment of the CPUT club in 2011.
"Capoeira helps individuals to become physically active and learn important life skills such as teamwork, leadership and discipline."
For more information about Capoeira visit http://www.abolicao-trust.org/ andwww.abolicao.co.uk.
Article issued by Cape Peninsula University of Technology