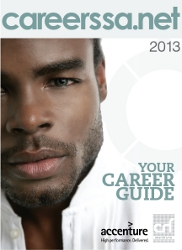 Graduates are making mistakes that can be prevented and that could be stopping them from landing their dream job.
Attending graduation and obtaining a degree is the day that all students look forward to. However the euphoria soon wears off when people start asking, "What's next?" Knowing that South Africa has a high number of unemployed graduates isn't a comforting thought either, but online platforms like provide potential and recent graduates with access to numerous tools and resources to help them plan and begin their careers.
Depending which statistics are considered, there are between 300,000 (National Skills Development Handbook) and 600,000 (Adcorp Employment Index) unemployed graduates in South Africa. And this high number is not exclusive to South Africa; unemployment at graduate level is in fact a global concern. An analysis of government data conducted for the Associated Press in America found that an estimated 1.5 million, or 53.6%, of bachelor's degree-holders under the age of 25 in 2011 were unemployed or working in a job that doesn't require a bachelor's degree.
"Although part of the problem is systemic – there are just not enough jobs out there – there are still things that graduates can do to increase their chances of success." says Samantha Crous, CRF Institute Regional Director: Africa & Benelux, the organisation behind careerssa.net. "Several graduates are making mistakes which can be prevented when applying for work."
According to the (SAGDA) there are various reasons why graduates struggle to secure their first job. Common challenges include a poorly presented resume, a lack of interview handling skills, poor verbal and non-verbal communication and inadequate work exposure and experience.
Lindsay Gibson, Marketing Manager at the CRF Institute, agrees with SAGDA's findings. When visiting campuses around South Africa to distribute careerssa.net and to facilitate free job hunting workshops to graduates, Gibson realised that graduates have a gap in knowledge regarding the working world.
"Knowing where to find a job is one thing but the various nuances on how to find one and how to fit into the corporate world can be overwhelming. That's where we feel careerssa.net can help – we have all the job hunting tools graduates need in one place.  From what an employment contract can look like, CV tips and templates, alternatives to corporate jobs and more."
"We want to help all South African graduates shift as painlessly from their reality on campus to the new world of work," says Gibson.
Careerssa.net provides graduates with a four-step cycle, which gives them access to various tools and resources to help them begin their careers and counter the challenges that prevent several graduates from landing their dream jobs.
1. Know yourself: This section includes a matching tool where graduates can discover which industries and companies suit their personality traits.
2. Make a decision: This tab features the profiles of South Africa's top graduate employers such as Standard Bank and Accenture, expert articles and video interviews with employers and recent graduates who work at these companies.
3. Getting ready: Here graduates can receive interview tips and advice on how to create their CVs and cover letters.
4. Apply online: This section provides graduates with links to online job vacancies and applications.
"Along with our website, graduates can also find us on Facebook and Twitter for career guidance and information," says Crous. "We live in a digital era and it's essential that we incorporate social media as one of our modes of communication to help graduates begin their careers."
For some the transition from campus to corporate is smooth but for others it's an overwhelming adjustment.
"Students are eager to learn the language of business. They understand the shift in perspective they need to make in order to transition from student to employee, and it is careerssa.net's ability to facilitate this that makes it an important resource for graduates," concludes Crous.
About the CRF Institute
The CRF Institute is the organisation behind the international Top Employers projects. In these projects, the company independently researches and audits the HR policies and employee offerings of leading companies in over 45 countries across the globe. Only those employers that achieve the highest standard in employee offerings are entitled to carry the exclusive Top Employers certification. Over the past twenty years, the CRF Institute has developed its proprietary research methodology which is endorsed by the Dutch Ministry of Economic Affairs and audited annually by the independent auditor Grant Thornton. The CRF Institute's Head Office sits in the Netherlands.
*Visit for more information and career guidance
*Find us on Twitter: or use #careerssa
*Find us on Facebook: