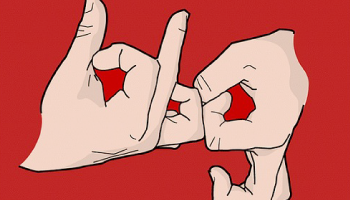 As an English teacher, I've had numerous conversations with university professors who lament the writing skills of their first year students. But not all writing. Most students are capable of solid expository writing. It's their skill with persuasive writing that's the problem. Specifically, they're weak at writing a thesis statement that can be argued.
I spend three years teaching my high school students how to write a persuasive essay. For many students, it takes that long. (And I'm lucky to have them that long in my school.)
So for three years, I write for them, and with them. We talk about opening paragraphs, and they learn how to write them with their thesis statement either as the first or last sentence. (The latter requires more skill.) They learn to use transition words, embed quotations to support their argument, consider the advantages of active vs. passive voice, vary their sentences, and many other skills, all in the hope of creating a strong argument.
The truth is lately I've come to question the point of much of this. Does the average person, once they leave school, spend a lot of time composing academic essays? Is this the best way for our students to show their learning? In some places, the academic 5 paragraph essay is hailed as the Holy Grail of non-fiction writing achievement. Yet even if a student can become a great persuasive essay writer, they're still only semi-literate, at least according to the definition of 21st Century Literacies.
A DIFFERENT BEAST
While traditional essay writing may not help alleviate this situation, I think blogging can. Here's the problem; Blogging is an entirely different beast. And one of the things I've learned about my students is that they don't necessarily transfer a skill they've learned in one area to another without difficulty, or even prompting.
For one, the paragraphing is different. The large, solid paragraphs of prose that can be found in a typical persuasive essay, can feel arduous and cumbersome to all but the most determined reader.
Instead, blog paragraphs tend to be shorter. It allows the piece to feel fluid and speeds up the rate at which your reader reads (often through the glare of a computer monitor or on a phone or tablet screen). And while the effective blogger still uses transition words, as many aren't necessary to provide the piece with a feeling of fluidity and coherence.
Sometimes a paragraph is one simple sentence, used for emphasis.
Another thing is the thesis statement. Its placement, in a blog, is up for grabs. Did you catch where mine is? Actually, I haven't written it yet. Huh?!
Blogging also requires a different voice. The way I blog isn't quite how I talk, but it's nowhere close to how I write a formal essay. Furthermore, the voice used in blogging needs to be rich, sharp and distinct, to gain an audience. And while some may argue that academic writing could stand to have a bit more color and flair, I'm not sure that's currently the accepted norm (although I wish it was).
In a formal essay, I would never use a sentence fragment. Ever. In a blog, it provides emphasis. Nor would I use slang in an essay. But here? Yep. In one of my posts, I double-dog dared my readers. Could you imagine double-dog daring anyone in an academic essay? If you try it, let me know the result.
Another thing that changes is providing your reader with evidence to support your points. In teaching the typical formal essay, I show my students how to quote directly, indirectly, and using individual words. Blogs still use direct quotes, but an indirect quote can be as simple as a vague mention and a link.
MY THESIS STATEMENT
I think blogging is the new persuasive essay – my thesis, finally.
Truth is, I love writing essays. There's something satisfying about rendering the chaos of thoughts into an elegant form. But I love blogging more. It feels like playing.
I also find it more useful. While our students will need to know how to write essays to get through university, many won't use it after that, unless they remain in academia. I think writing and persuasive thinking skills are important. However, I question the current products we require of students as proof of their learning. Most of the essays written by our students likely end up in the garbage or the computer trash can. And most are for an audience of one.
For more and the article source visit