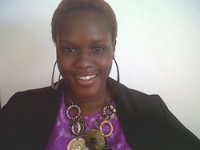 Nandipha Badela may only be 19, but this young Port Elizabeth-based woman is pursuing her entrepreneurial dreams by providing fashion students and graduates the opportunity to showcase their talents via the what she sees as the Nelson Mandela Bay Fashion House.
Recognising both the political icon and her home-town municipality, the space the teen has in mind is one that is open to the fashion industry, providing an arena for anyone selling their talents and designs and offering styling and window-dressing services.
It is the type of thinking seeks to bring together. GEW is the world's largest celebration of innovators and job creators, essentially inspiring people to explore their self-starting potential. Currently honoured in some 117 countries, GEW has 24.000 partner organisations and this year plans more than 37000 activities to engage 7-million people.
'My goal is to be a key player driving economic growth in Port Elizabeth by providing jobs and empowering designers to become financially viable,' Badela says. 'I want people to network, provide information about the latest trends and services and offer a fashion lounge where people can indulge in the luxury of wining and dining while browsing fashion blogs via the available wi-fi.'
The business model creates opportunities for fashion artists and Badela plans to style people via the polyvore and pinterest styling websites offering her the chance to choose clients' clothes and profit from a handling fee.
Once she has more firmly established the venture, she will have the clothes readily available on the house floor. However, the vision still proposes facilitating the process of putting people in touch with each other.
The 19-year old also wants to offer personalised services as a visual merchandiser, basically a window-dresser for retail stores and boutiques and fashion styling for events and like-minded people. The house will source modern trends via her blog, fashion magazines on sale and the designers' work being showcased and sold.
Also on the agenda is retailing Madiba shirts as Badela says these are 'a well-known trend worldwide'.
However, her dreams and aspirations do not come without challenges.
Principal among them is financial stability with Badela commenting it is 'very difficult to get bank loans for fashion businesses'. There are also no retail chain buyers situated in Port Elizabeth as their traditional turf is Cape Town.
Hindering getting her initiative off the ground is the information gap around resource availability and outside motivation and encouragement. Beyond the obvious access to finance, the solution she seeks is mentorship on converting her dreams into a viable business.
'I believe it is my responsibility as a fashion entrepreneur to secure the business deals and acquire a mentor,' she says.
Badela firmly believes South Africa is not lacking the education tools that underpin her initiative. She has studied part-time courses in visual merchandising and window-dressing and gained the opportunity to learn about fashion entrepreneurship and establishing a fashion business.
As a child she was driven by a passion for dressing up and looking good. Nadela: 'The Nelson Mandela Bay Fashion House is my vision for making other people feel the same way.'
– By Nicola Jenvey –
Article source: