We are not an institution so please contact the
relevant institution directly for course information.
Register Here
FOR ALL THE LATEST OFFERS
AND SPECIALS NOW
Register
What are you looking for?
10 YOUNG BLACK IT PROFESSIONALS START SUCCESSFUL IT CONSULTANCY
10 young Black IT professionals start successful IT consultancy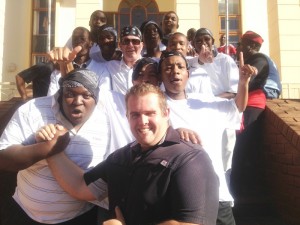 It takes guts to walk into a business and out of the blue offer your services. This without having made an appointment or knowing anyone's names. Yet that is exactly what Mtutu Bembe did.  "I saw an opportunity and decided to go for it," says Bembe. "Of course there was the risk of being laughed at in my face but fortunately things turned out well – I chatted to the owner of the business, he liked my ideas and we are currently negotiating a service contract."
Bembe, an IT graduate of Boston City Campus & Business College, is the product of an enterprise development project that was launched earlier this year by IT company Incredible Connection. Called the 'Agent X Project', the project aimed exclusively at helping young Black IT professionals start their own businesses.
"Information technology is the way of the future and South Africa needs many more entrepreneurs to drive growth in this field," says Wayne Holloway of Incredible Connection. "We at Incredible Connection put heads together and came up with the Agent X concept." The Agent X project entailed recruiting ten IT graduates fresh from college, and giving them three months of intense learning followed by five weeks of fieldwork. Once the graduates had completed these two phases, they went on to launch a fully-fledged company on their own. The JD group, of which Incredible Connection is a subsidiary, provided the necessary funding and back-up support.
"The whole idea was to help graduates successfully launch and run their own businesses," says Holloway. "So first we taught them as much as possible about the market we operate in and about different manufacturers and their products. Then the graduates had to put their knowledge and skills to the test at our stores where they dealt with customers directly. While working in our stores, the graduates enjoyed the backing of the entire Incredible Connection technical department and learnt the so-called tricks of the trade that you can't learn in books."
To get the project rolling, Incredible Connection approached Janine Hart, business development manager at Boston City Campus & Business College, an institution renowned for sourcing work experience and placement for their learners and graduates. The college provided CV's of its best performing IT students. "We needed to have 10 strong candidates to test our pilot project," Holloway explains, "We thus decided to approach Boston because it is a college that has a solid reputation and has been voted best IT college a few times."
Shortlisted candidates underwent what Holloway calls "a rather scary" selection process: candidates had to achieve 80% minimum score in a technical skills test as well as demonstrate motivation, perseverance, social skills and entrepreneurial and business savvy. The following ten would-be entrepreneurs were selected: Ronald Tsele, Mtutu Bembe, Tshidiso Sefatsa, Sipho Ramokoena, Ben Buthelezi, Dinilekhaya Mhlati, Sean Manamela, Lanvin Dlamini, Setimela Mashala and Tebogo Lecogo. "They truly represent the top of the proverbial crop," says Holloway. "It is no wonder they made a huge success out of our pilot Agent X enterprise development project."
In June, once they had completed their training, the 10 went on to launch Batho IT (Pty). Incredible Connection helped each one with a 'toolbox' that includes laptop, software package, Internet security and marketing material such as business cards, letterheads, and a website.  RIM sponsored BlackBerry cell phones.
Though still in its infancy, Batho IT has been running successfully since then. The company offers services ranging from sales to monthly service contracts. The ten are equal shareholders in the business but service different geographical areas in Gauteng including Diepsloot, Midrand, Fourways, Tembisa, Glenvista, Kempton Park, Mapopane, Pretoria and Shoshanguve. Running your own business is not a bed roses, Bembe admits. "One of the challenges we face at Batho IT is that people in townships are reluctant to pay for IT services," he comments. "But so far so good. We will do anything to become SA's most reputable IT services company, offering clients nothing but first class products and unrivalled service."
Batho IT still enjoys the support of Incredible Connection. The Agent X graduates can go to any Incredible Connection store to get assistance be it technical, legal or recruitment related. They also receive commission whenever they take a Batho IT customer shopping at an Incredible Connection store.
For more information on Boston City Campus & Business College or visit their website www.boston.co.za
Facebook Comments