Many life-changing innovations and world-firsts emerged in 2004. These include Facebook, the world's first one gigabyte SD card; Taiwan's building Taipei 101 — the world's tallest skyscraper, the first privately-funded human spaceflight as well as the Tertiary School in Business Administration (TSiBA) in the Western Cape, South Africa. Founded on February 27th 2004, TSiBA is a private, not-for-profit business school registered and fully accredited by the Department of Higher Education & Training. Over the last decade TSiBA's enduring mission remains to graduate entrepreneurial leaders who will ignite opportunity and social change.
Over the last ten years TSiBA has provided tuition scholarships to over 1,200 talented young people who would otherwise not have been able to access higher education due to financial or educational constraints. All students are on full, or part, tuition scholarships and contribute, according to their means, to scholarships for their peers. TSiBA's philosophy of 'Paying it Forward' is a vital part of TSiBA's culture where students who are awarded scholarships are not required to pay back their education monetarily, but rather to 'Pay it Forward' by transferring the knowledge, skills and resources that they gain at TSiBA into their communities. In this way, TSiBA's vision of Igniting Opportunity is realised.
Throughout the year TSiBA will be celebrating its ten year milestone with the Power of Ten campaign which highlights the exponential, knock-on effect of TSiBA's pioneering 'Pay it Forward' philosophy. This increases the number of people reached and stretches into the community to break historical boundaries to social and economic empowerment. This phenomenon is transforming the lives not only of students, but their families and communities.
It was just ten years ago that TSiBA's four co-founders established TSiBA in response to the dilemma of how one can Ignite Opportunity in South Africa. Leigh Meinert, co-founder, Director and former CEO of TSiBA explains that "the idea being that people who have the opportunity to benefit from high-quality education will rise above their challenging circumstances, and in turn will help other people to access quality education, and those people will help even more people … lighting a spark that can sweep upwards from the very tip of Africa. In 2004 TSiBA was awarded seed capital from the Shuttleworth Foundation, followed by an additional platinum sponsorship, and that was it – TSiBA was born!"
TSiBA's achievements over the last ten years, across six degree cohorts, includes five Mandela Rhodes Scholars, two Kofi Annan Scholarship winners currently enrolled in Masters postgraduate studies in Geneva and Berlin, as well as two final year degree students in the prestigious Allan Gray Orbis Foundation Fellowship programme.
Adri Marais, co-founder and CEO of TSiBA explains, "People ask us where we find our talent. The reality is talent is in abundance in South Africa. Anyone can make a winner out of a winner, but if you can ignite opportunity to the general community, believe in their talent; nurture them you can develop something into greatness. Aside from TSiBA's excellent academic programme we also integrate the building of an individual's character –we call this the 'Profile of Graduateness'."
Marais continues, "TSiBA's tenth birthday milestone is a testament to the success of TSiBA as a grassroots initiative which continues to make a significant contribution to the South African society. The reason for TSiBA's success and longevity in the challenging non-profit sector is our ability to wholeheartedly embrace innovation and an entrepreneurial spirit. TSiBA is constantly evolving to keep up with external trends and to ensure its sustainability. In response to the global economic crunch TSiBA's strategy has evolved to include income generation projects."
Gia Whitehead, co-founder and Director of TSiBA comments on the last ten years, "'TSiBA degree graduates leave with a fully accredited business degree, a 95% chance of finding a job and the skill-set that enables them to successfully undertake advanced tertiary education, seek employment or launch their own business. As a social entrepreneur and eternal optimist, and considering what TSiBA has achieved in such a short space of time, I believe the future is bright. There is massive opportunity in South Africa and a new generation of educated youth emerging bodes well for the future challenges facing our nation.'"
It is estimated that current TSiBA graduates will contribute over R5 billion into the economy during their professional careers.  TSiBA extends its reach further into the community through the high school learners and entrepreneurs who benefit from the pro-bono services that are offered by the Ignition Centres for local entrepreneurs on both TSiBA campuses.
Zikhona Ngumbela, 20 year old final year TSiBA Bachelor in Business Administration student and Allan Gray Orbis Foundation Candidate Fellow, recalls that "when I joined TSiBA in 2011, I finally began to realise my dream of one day becoming an entrepreneur. It was scary at first, but in the years I have been at TSiBA I have gained confidence in this dream. TSiBA has opened the doors to many opportunities for me; it has made me into the woman I am today. I'm very excited about the future – about graduating, as well as ultimately bringing about positive change in this country."
Thokozile Mcopele, a TSiBA Bachelor in Business Administration graduate and 2013 Mandela Rhodes Scholar, has future plans to work in enterprise development and ultimately start her own consultancy. Thokozile says "I have not been studying only for myself, but also to be able to give something back to the community one day. At TSiBA, we were taught about the importance of 'Paying it Forward' and that's a legacy I would like to uphold."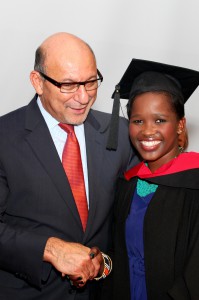 Thokozile Mcopele, 2012 TSiBA Bachelor in Business Administration graduate and 2013 Mandela Rhodes Scholar with Trevor Manual.
TSiBA has two campuses, one in Cape Town as well as in the rural town of Karatara on the Garden Route. 2015 Scholarship applications open in March 2014. For more information please visit www.tsiba.org.za, and/or contact Sandi Sher on 021 532 2750 or [email protected]