We are not an institution so please contact the
relevant institution directly for course information.
Register Here
FOR ALL THE LATEST OFFERS
AND SPECIALS NOW
Register
What are you looking for?
YOU KNOW YOU'RE A POSTGRAD STUDENT WHEN...
You know you're a postgrad student when...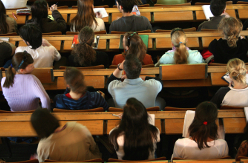 Postgraduate study is often the time when everyone starts feeling the pressure and the wheels kind of fall off a bit. I've noticed some common symptoms within postgrad students, namely:
You have used basically every PC in the computer lab at least once.
You treat your laptop as if it were your first-born child.
Realizing your day hasn't been productive enough causes dramatic hyperventilation.
Your friends' conversations about Suits, Game of Thrones, Breaking Bad and Dexter do not ring ANY bells.
You sit down at your computer and can't actually decide which assignment you should be working on..
You get cold sweats at night about your impending deadlines.
You see your classmates more than your housemates.
You take packed lunches to campus.
You go to the computer lab on the day of your res dance.
If you recognize any of these traits in yourself? Got any more you'd like to add? Let us know on
Facebook
or
Twitter
!
Facebook Comments
Follow us On