We are not an institution so please contact the
relevant institution directly for course information.
Register Here
FOR ALL THE LATEST OFFERS
AND SPECIALS NOW
Register
What are you looking for?
WITS UNIVERSITY DEBATING UNION DOES IT AGAIN
Wits University debating union does it again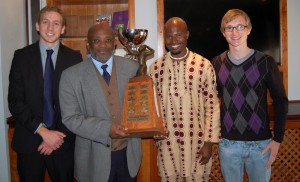 Wits University students have out-argued the imperious debating teams of Cambridge and Monash Universities.
Legendary for their strong debating traditions these institutions had to concede to the masterly South African orators Michael Macklin, Christopher Wood and Karabo van Heerden from the Wits University Debating Union. They won the world's most exclusive invitational debating tournament: the World Universities Peace Invitational Debate (WUPID) that concluded yesterday, 5 December 2012, in Malaysia.

Wits, who were invited to the tournament after qualifying at national level, went into the tournament as underdogs but trumped the top dogs to claim the coveted title by out-smarting 30 top traditional university debating teams including those from Cambridge, Monash and the London School of Economics.
The Wits debating team are only one tournament away from being crowned the best debaters in the world if they can keep up their winning streak at the World University Debating Championships (WUDC) due to take place from 27 December 2012 to 4 January 2013 in Berlin Germany. Seven debaters from Wits will be flying the South African flag at the competition where they will meet competitors from Yale and Harvard universities.
The WUPID victory comes after a streak of spectacular wins by the Wits Debating Union. The Union successfully defended its title, for the third consecutive year, as the kings of Southern Africa when it beat 400 university students from the Southern African Development Community to take top honours at the National Universities Debating Championships held in July at the University of Limpopo.
Other notable wins:
Gauteng Provincial Champions from  2006 – 2012
African Universities Debating Champions in 2010
Best African team at the WUDC 2006 – 2010
For more information on Wits University, go to www.wits.ac.za
Facebook Comments
Follow us On